2 August 2023 (Seattle, USA)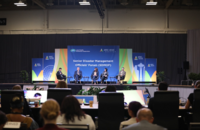 The 16th Senior Disaster Management Officials' Forum (SDMOF), chaired by FEMA Administrator Ms Deanne Criswell, was held in Seattle on 2 August 2023. The forum was organized against the backdrop of a series of destructive and costly wildfires, floods, hurricanes, typhoons and earthquakes that compelled APEC member economies to heightened collective actions to respond to the increasingly complex disaster landscape.
The forum kicked off with a Roundtable on Adaptive Management, in which every Minister or Head of Delegation provided three-minute remarks. In this roundtable, Mr TANI Koichi (Minister of State for Disaster Management) of Japan delivered a video message. His message touched on incorporating the principles of adaptability, flexibility and meaningful change to build strong and resilient communities. All heads of delegations to the forum provided their remarks in person, including from the following economies: Australia, Canada, Chile, China, Indonesia, Republic of Korea, Malaysia, New Zealand, Peru, Philippines, Chinese Taipei, Thailand, USA, and Vietnam.
Emphasizing the significant role of disaster risk managers, the SDMOF tackled four thematic areas to take urgent and decisive action:
i) Inclusive and Participatory Disaster Risk Reduction: Fostering Whole Community Integration into Decision-Making Processes;
ii) Climate Impacts to Disaster Housing: Prioritizing Pre-Disaster Recovery Planning in the Asia-Pacific;
iii) Nature-Based Solutions: Strengthening Infrastructure Resilience;
and
iv) Women's Leadership in Crisis Management: Achieving an Equitable Future for the APEC Region.
During the wrap-up, Mr Gerry Potutan (Senior Researcher at ADRC), who moderated Thematic Session 2, summed up key takeaways from the forum with the following words:
"As you heard from the speakers, the greatest challenge in disaster housing is logistics, e.g., seeking permits for where and when to build disaster housing, adhering to protocols in shipping building materials, and complying with government regulations in transferring funds. These logistical challenges make disaster housing complex and it will take a long time for complete housing reconstruction. The longer it takes, the greater the losses. However, these logistical issues can be addressed now through pre-agreements and pre-disaster recovery planning. So, when disaster strikes, the pre-agreed logistical arrangements will be activated."
(2023/8/9 15:00)