8-9 Sep 2013 Riyadh, Saudi Arabia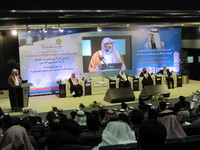 ADRC participated in the Saudi International Conference on Crisis and Disaster Management which was organized by Imamu University in Riyadh, Saudi Arabia on 8-9 Sep 2013.
Recently, disaster becomes a major concern with global dimensions, this conference was held to obtain knowledge of the civil protection policies by inviting experts from various countries.
At the conference, about 40 experts of Crisis and Disaster management, who came from Australia, Egypt, German, Japan, Kuwait, Malaysia, USA, as well as representatives of the organizer and so on, gave lectures on topics such as "Modern Technologies for Crisis Management" and "Critical Assessment of Disaster Vulnerabilities in the Kingdom of Saudi Arabia" to about 500 listeners (government officials, students, etc).
During this conference, the ADRC representative gave a presentation titled as "Lessons Learnt from the Great East Japan Earthquake", and introduced the efficacy of Disaster Prevention Education, and our activities regarding that. This presentation drew the interest of the audience and some stressed that the importance of Disaster Prevention Education and the necessity to enhance the public awareness to DRR in Saudi Arabia.

(2013/09/13 19:40)