Building Communities Capabilities
Community Participation is a Key to Effective Disaster Reduction
(1)Development and Dissemination of Tools for Encouraging Community Participation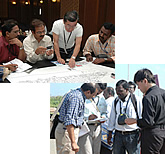 Risk reduction measures are most successful and effective when they involve the direct participation of the community most likely to be exposed to hazards. ADRC undertakes various efforts including increasing public awareness of disaster risk management, and development and dissemination of tools for reducting vulnerability of communities.
Town Watching Program for Disaster Risk Management
Community-based Disaster Risk Awarness Program (Indonesia, Nepal, India)
Development and Distribution of Posters and Brochures for Disaster Risk Awareness (Papua New Guinea)
Program for Enhancement of Disaster Education Programs in Schools (Phillipines, Armenia)
(2)Support for the Activities of Asian Disaster Reduction and Response Network (ADRRN)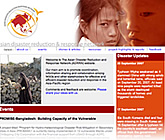 ADRRN
ADRC and UN OCHA agreed to form the Asian Disaster Reduction and Response Network in 2002. Since then ADRC has supported the effort to improve networking among Asian NGOs which play an important role in disaster reduction and response. This leads to more efficient and effective activities for the network members.