Ulaanbaatar, Mongolia (2-5 October 2018)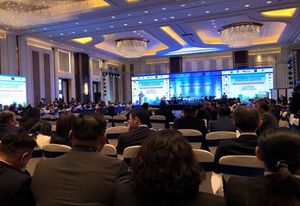 The Government of Mongolia, along with UNCRD and other partners, convened the Intergovernmental Eleventh Regional Environmentally Sustainable Transport (EST) Forum in Asia, 2-5 October 2018 at Shangri-La Hotel in Ulaanbaatar to discuss the role of EST in "Sustainable Urban Design and Development". The Forum sought to address the increasing pressure on transport systems to deliver safe and efficient movement of people and goods in the context of rapid urbanization in Asia. The discussions put emphasis on how cities can manage the enormous demand for transport and freight within the constraints of current infrastructure and development. Additionally, it dwelt on how can cities ascertain the continuity of transport operations in case of a disaster.
The International Recovery Platform-Asian Disaster Reduction Center (IRP-ADRC) was invited to the Forum to offer insights on how to achieve resilience of transport systems in the context of disaster risks and climate change. In its presentation, IRP-ADRC suggested that national and city governments can consider the several actions to achieve resilience of transport systems.
First, maintain a disaster loss database. Governments usually record the damages to transport infrastructures but not the losses from disaster. However, if governments maintain a disaster loss database, it can facilitate greater understanding of risk and enhance resilience. Disaster loss data helps indicate the level of resilience, and offers insights regarding: (i) vulnerability of key transport assets to hazards; (ii) resource requirements for reconstruction of transport assets and structures; and (iii) continuity of transport operations in case of disaster. Second, perform pre-disaster mitigation. Governments can strengthen critical transport infrastructures (e.g., railways, roads, and bridges) by upgrading or retrofitting these structures to reduce vulnerability. This action requires regular assessment of the conditions of the transport systems to address structural deficiencies, exposure, and vulnerability to hazards. Finally, "build back better in recovery, rehabilitation, and reconstruction". Governments can heed the guidance from the Sendai Framework for Disaster Risk Reduction by ensuring that the reconstruction of transport infrastructures and assets conforms to the national/global standards so that it can withstand the impacts of future hazards.
Over 300 officials (national/local governments, regional/international organizations, UN agencies, development banks, academic, science institutes, NGOs, and private sector) participated in the Forum. The geographic representation encompassed 25 countries in Northeast, Southeast, and South Asia and the Russian Federation.
(2018/10/02 14:40)