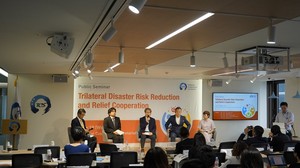 19 June 2019 (Seoul, Republic of Korea)
The Asian Disaster Reduction Center (ADRC) participated in a public forum on "Trilateral Disaster Risk Reduction and Relief Cooperation among China-Japan-Korea," which was organized by the Trilateral Cooperation Secretariat on 19 June 2019 in Seoul, Republic of Korea. The public forum was attended by participants from disaster management organizations and research institutions in all three countries.
ADRC presented information on Town-Watching Programs and Sentinel Asia in a session on international disaster risk reduction. In this session, ADRC proposed that information on the status of hazard map development be shared among the three countries. ADRC also gave a presentation on disaster relief on behalf of a Japanese NPO that was unable to participate due to emergency response efforts needed following the Niigata Earthquake that struck the night before their planned presentation. In that session, ADRC reported on volunteer activities in Japan.
(2019/07/18 17:40)