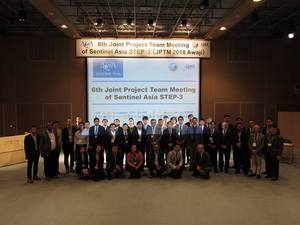 Asian Disaster Reduction Center (ADRC) participated in the Sixth Joint Project Team Meeting for Sentinel Asia, which was organized by the Japan Aerospace Exploration Agency (JAXA) and ADRC from 1 to 2 November 2018 in Awaji, Japan. The meeting was attended by about 40 participants including representatives of satellite agencies, disaster management organizations, and academic institutions in Japan. The
meeting primarily covered the following topics:
  Session 1: Overview
  Session 2: New Membership and Working Group Activities
  Session 3: Users' Session
  Session 4: Local Host's Session
  Session 5: Project Management
  Session 6: Sentinel Asia System
  Session 7: Strategic Plan for Sentinel Asia (under the leadership of the
       Steering Committee)
  Session 8: Special Session - Contributions of Sentinel Asia to Achieving the
        Global Agenda
  Session 9: Closing session
The ADRC member countries of Myanmar, Lao PDR, and Malaysia also joined this meeting and gave presentations on disaster management in their
respective countries. ADRC presented information on the activation of emergency observations in 2017 and activities related to the Sentinel Asia Strategic Plan. Mr. Suzuki, ADRC Executive Director and co-chair of the event, gave closing
remarks.
(2018/11/25 18:30)