24-26 October 2016 (Cebu City, Philippines)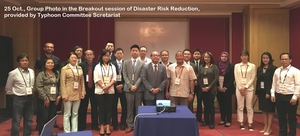 ADRC participated in the 11th Integrated Workshop of Typhoon Committee (TC) which was jointly organized by the United Nations Economic and Social Commission for Asia and the Pacific (UNESCAP), World Meteorological Organization (WMO) TC Secretariat in collaboration with the Philippine Atmospheric, Geophysical and Astronomical Services Administration (PAGASA) and the Local Organizing Committee of Cebu at Waterfront Cebu Hotel on October 24-26, 2016.
ADRC represented by Mr. Kazuhito Ueda attended the workshop during its Breakout Session on Disaster Risk Reduction in the second day and presented the member's report in the morning and discussed on the progress of the Annual Operation Plan (AOP) by the Working Group on Disaster Risk Reduction (WGDRR) as well as its initiatives and budgets towards the following year.


The member's report covered the disaster overview focusing on typhoons in 2016, the progress of projects related Typhoon Committee and the initiatives on Disaster Reduction by 10 member-countries including the People's Republic of China, the Democratic People's Republic of Korea, the Hong Kong Special Administrative Region of China, Japan, the Lao People's Democratic Republic, Malaysia, the Kingdom of Thailand, the Republic of Korea, the United States of America and the Socialist Republic of Vietnam.


Mr. Ueda explained the characteristics of typhoons that landed Japan this year and reported on the enormous damage these had brought to areas that have not frequently been hit by typhoon such as Kanto, Tohoku regions and Hokkaido from the Pacific side. Further, he suggested on the need to accumulate the contents of these disasters' characteristics and damages as the analyzable dataset.


During the consultation about the AOP in the afternoon, a useful report was made regarding the 4th project of the year 2016 entitled, "Benefit Evaluation of Typhoon Disaster Prevention and Preparedness" of which China has become the implementing country. In the report, a Chinese Representative stressed that reducing typhoon track forecast error could lead to a reduction of considerable economic losses.


Although the stay was quite brief, the flow of the activities was unbelievably smooth and the travel was comfortable thanks to the support by the Local Organizing Committee. Finally, ADRC would like to express its sincere appreciation for everyone's effort which contributed to the success of this conference.