10 - 21 July 2023 (Kobe, Japan)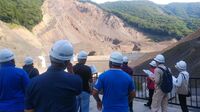 ADRC conducted the JICA Knowledge Co-Creation Program: Malaysia "LEP2.0 Enhancement of the Disaster Risk Management Capacity of the National Disaster Management Agency (NADMA)" Countermeasures against Sediment related Disaster from 10 to 21 July 2023.
A total of twelve officials from disaster risk management and relevant Malaysian organizations participated in this intensive two-week program to learn about the sediment disaster policies and practices of Japan. They attended lectures by experts in the field, including from the Ministry of Land, Infrastructure, Transport and Tourism, local government and research institutes, and visited sites in Hiroshima, Nara and Osaka where sediment disaster countermeasures have been installed. At the end of the program, the participants presented their action plan based on their findings over the two weeks.
ADRC would like to express its sincerest gratitude to all the organizations and universities that contributed to the success of the program.
(2023/7/28 15:00)