30 August-1 September 2010, Tokyo, Japan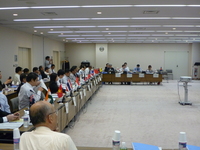 As a partner organization, ADRC participated in the ASEAN plus Three International Conference on Disaster Management in Tokyo.
ASEAN Plus Three International Conference on Disaster Management, hosted by the Ministry of Foreign Affairs of Japan in close cooperation with the Cabinet Office of Japan, United Nations International Strategy for Disaster Reduction (ISDR), Japan International Cooperation Agency (JICA) and Asian Disaster Reduction Center (ADRC), with participation of officials and academic experts from ASEAN countries Plus Three countries and observer countries such as Australia and India as well as other international organizations, was convened on 30 August-1 September 2010 in Tokyo, Japan.
The Meeting reviewed the progresses and challenges in the first half decade of the HFA 2005-2015 in the region and discussed to identify new challenges in the next half decade of the HFA with a view to contributing to the Mid-Term Review of the HFA. Participants of the Meeting shared the view that progresses have been made at both national and regional levels.
It was also pointed out that adaptation to climate change should be linked with disaster risk reduction policy in each country and facilitated through the regional cooperation in view of the disaster management.
The Meeting also acknowledged the important role of ADRC to the regional cooperation in Asia on disaster management and recognized valuable and significant activities of JICA in bilateral cooperation on disaster management through the Official Development Assistance of Japanese government.
-Note-
ASEAN Plus Three; ASEAN Member States (Brunei Darussalam, the Kingdom of Cambodia, the Republic of Indonesia, the Lao People's Democratic Republic, Malaysia, the Union of Myanmar, the Republic of the Philippines, the Republic of Singapore, the Kingdom of Thailand and the Socialist Republic of Vietnam) and People's Republic of China, Japan and Republic of Korea