31 January 2023
As announced last month, ADRC will hold the Asian Conference on Disaster Reduction 2022 (ACDR2022) in a hybrid format (in-person and online) this year, after having conducted it in an online format only for the past two years. The ACDR is held annually in Japan or another ADRC member country and aims to provide a forum for discussing challenges in promoting DRR in Asian countries among stakeholders from member countries and DRR-related organizations. ACDR2022 is scheduled to be held in Sendai, Japan with a focus on the theme: "WHAT IS NEXT? - Learning from the Past, Preparing for the Future."
An outline of the conference is as follows.
(Date and time)
10-12 March 2023
The meeting on 10 March is for member countries only. The event will be open to public starting on 11 March.
(Venue)
Sendai International Centre
(Draft Programme)
11 March (Saturday)
Opening
Special Session on the Centennial Commemoration of the Great Kanto Earthquake in 1923
Session 1: Large-Scale Disasters and Countermeasures
12 March (Sunday)
Session 2: Broaden Our Horizons for Disaster Data Linkage in SFDRR Implementation: Application of GLIDE (GLobal IDEntifier Number)
Session 3: The Provision of Information via Satellite for Disaster and Crisis Management
Those wishing to participate in this conference in person and online can register on the ACDR2022 website:
Any conference updates will be provided on that website and in the next issue of this newsletter. We look forward to your participation.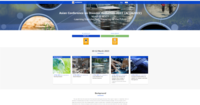 (2023/01/31 15:00)