10 November - 9 December 2022 (kobe,japan)
ADRC conducted a JICA Knowledge Co-Creation Program entitled "Comprehensive Disaster Management in Central Asia and Caucasus" from 10 November to 9 December 2022. This program was designed for disaster management administrators in the Central Asia and Caucasus region, with the aim of strengthening the capacity of government agencies primarily responsible for disaster management so as to mitigate human impacts and economic damages caused by natural disasters. With a particular focus on the formulation of priority DRR measures, the program aims to deepen understanding of the importance of such measures, to promote strategic DRR investments in each country, and to promote the implementation of DRR measures that reduce residual risks. Finally, it aims to help participants learn how to draft and implement local DRR plans.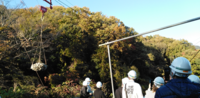 Due to the spread of COVID-19 pandemic, the training program was temporarily suspended and subsequently conducted online, but in-person trainings resumed this year for the first time in three years. A total of seven participants from Armenia, Kazakhstan, Kyrgyz Republic, and Tajikistan took part in the five-week program.
The training consisted of in-person and online lectures, visits to DRR facilities mainly in Hyogo Prefecture but also in the Tokyo area, and a workshop on designing local DRR plans. Each participant enthusiastically participated in the lectures and exercises, and presented a draft local DRR plan on the final day to successfully complete the course. It is hoped that the knowledge, skills, and methodologies acquired through this training will be applied to disaster risk management in the participants' home countries.
We would like to express our deepest appreciation to all the supporting organizations and lecturers for their cooperation in conducting this training course.
(2022/12/16 15:00)