12-14 May 2014 (Doha, Qatar)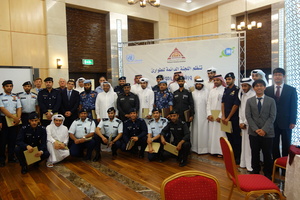 The Permanent Emergency Committee (PEC) of the Ministry of Interior, State of Qatar has requested for workshop on disaster recovery planning to ensure that the State's development efforts are immediately back to normal in case of future disaster. While Qatar is a country that is less prone to disaster, the government is keen to strengthen their disaster management system considering the disasters that happened in neighboring countries such as flooding in Saudi Arabia and conflict in other parts of the gulf. Additionally, Qatar is making sure that its disaster management system should be functional and effective, especially that they are hosting many global events, including hosting the World Cup in 2022. Against this backdrop, the International Recovery Platform (IRP) and Asian Disaster Reduction Center (ADRC) in close collaboration with UNISDR in the Arab States and the Global Training Education and Institute (GETI) had facilitated the workshop, 12-14 May 2014 at the Civil Defense Club House, Doha Qatar. The main objective of the workshop was to orient government officials with concepts of organizing recovery after a disaster. It was also intended to prepare the officials in formulating the Recovery Framework of the State of Qatar which is envisioned by the Civil Defense. With its experts in Doha, IRP/ADRC shared a collection of global experiences on disaster recovery, including lessons from the Great East Japan Earthquake (2011) and Great Hanshin Awaji Earthquake (1995), which served as reference in linking preparedness, recovery, and sustainable development. Furthermore, the workshop was also aimed at enhancing the knowledge of government officials in disaster risk reduction (DRR) and how this knowledge can be adequately integrated in the long-term development programing.
Close to 55 government officials from the State of Qatar and representatives of the private sector participated in the workshop to explore strategies and actions for the recovery framework. Partners from UNISDR-Arab States, GETI, and Civil Defense of Qatar also contributed in the discussions to ensure that partners' knowledge and experiences are shared. The Secretary General of Permanent Emergency Committee Brigadier Hamad Othman N. Al-Dehaimi, along with key officials from the Ministry of Interior, was present at the opening to highlight the expected outcomes of the workshop - i.e. enhanced knowledge on DRR and recovery. In this regard, the participants were exposed to various concepts and wide array of strategies and actions from the global experiences to reinforce the existing initiatives of the State of Qatar.
As way forward, the State of Qatar is contemplating of organizing a follow-up workshop to come up with a draft Recovery Framework.

(2014/05/21 14:40)