15 November 2011 (Doha, Qatar)
The 3rd Civil Defence Exhibition and Conference was organized by the Government of Qatar from 14 to 16 November 2011 in Doha Qatar. As a side event, the 2nd Security Conference (forum) was held. Seven officials and specialists on Disaster Risk Management, including a ADRC's researcher, were invited to the forum to deliver presentations/speeches.
The ADRC explained the damages of and lessons learned from the Great East Japan Earthquake and Tsunami in March this year while other speakers presented a broad range of issues, both man-made and natural disasters, such as climate change, challenges concerning high-rise building disaster and information dissemination. More than 200 officials, experts and the media people from Qatar participated in he forum and actively exchanged views and opinions among them, demonstrating their strong interests in disaster risk management.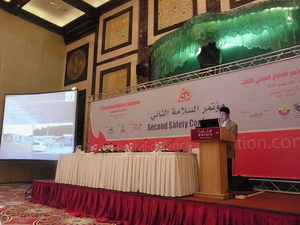 (2011/11/17 19:50)