APMCDRR2022 Partner Event 12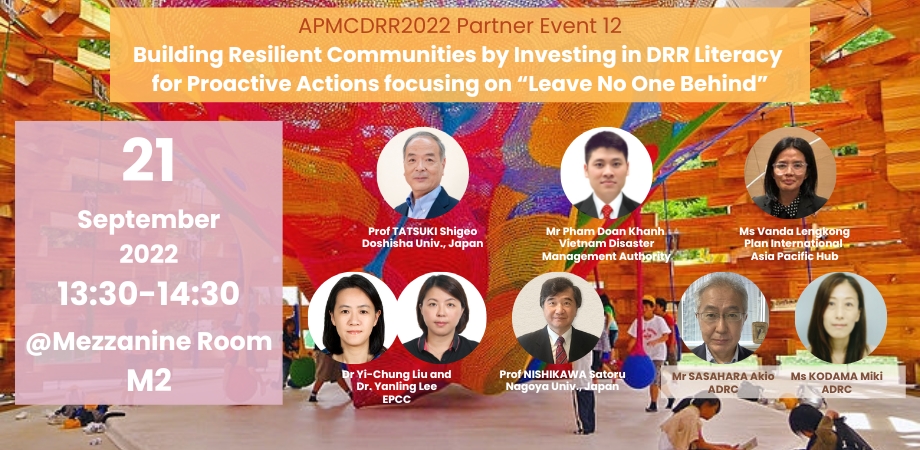 Background:
The importance of building the resilience of communities and people to disasters has become underscored by lessons learned through past disasters. At these disaster events, there were many lives of people saved through DRR activities and learning from past disaster experiences. To avoid repeating tragedies from disasters, it is vital for all actors in societies including citizens, local communities and private sectors understand the natures of disasters and DRR to take appropriate actions and mutually tackle this issue in addition to the measures taken by governments.

Further, from the view of "no one left behind," it is important that all the actors think "DRR is our own business," and they are involved in local efforts as a member of local communities. With these understanding, people can act proactively for reducing negative impact at the time of disasters.

On the other hand, people most at risk are likely to face additional problems and challenges in extraordinary situations such as disasters including COVID 19 pandemic . It was reported that the mortality rate of people with disabilities is twice or more than the average in the Great East Japan Earthquake occurred in 2011 . The cause of social disadvantage at the time of such crises can be attributed to the fact that when the services, systems, and policies of public supporters that are utilized in normal times are forced to be interrupted due to a disaster. Further, the most vulnerable people are also observed to spend most of their time on daily priority activities and have few opportunities to improve their DRR knowledge and to participate in local DRR efforts. For fundamental solution, it is important to ensure seamless linkage between their daily activity or welfare/social protection in normal times and DRR efforts in emergencies.


Objectives:
Linking directly to the theme of APMCDRR "Resilient Communities," this event aimed to contribute in accelerating international, national, and local actions to "empower local communities through resources, incentives and decision-making responsibilities as appropriate" and "promote gender-equitable and universally accessible approaches during the response and reconstruction phases" in Sendai Framework for disaster risk reduction 2015-2030.

Further, realizing the importance of empowerment of community which directly get affected by disasters for reducing disaster damage, this event showcased good and innovative practices in building community resilience, including investing in DRR literacy as actions that ensure "no one is left behind". From the successful examples of wide range stakeholders, this event emphasized the importance of enhancing disaster literacy of all stakeholders in community, as well as networking of stakeholders in the communities to sustain and accelerate the actions.

- To showcase good and innovative practices on the linkage of daily activity or welfare/social protection in normal times with DRR efforts in emergencies
- To share good and innovative practices on improving DRR literacy of those who are left behind
- To discuss how we can effectively link daily activity or welfare/social protection in normal times with DRR efforts in emergencies in a sustainable manner especially at the local level
- To identify effective actions of enhancing DRR literacy of people most at risk
- To communicate the importance of government intervention, backed by policy and budgets, for sustainable action

Key Messages:
- Enhancing DRR Literacy is one of the important keys for enhancing community resilience.
- Experienced-based /practical experience-oriented activities/ education is useful for improving DRR Literacy.
- DRR activities need to link with people's daily activity or welfare/social protection system to continuously benefit everyone in the community.
- Collaboration among all the stakeholders in the communities lead to effective proactive actions in emergencies with no one left behind.
- For ensuring sustainability, community DRR activities should be backed up by policy measures.


Agenda:


13:30-13:32 Greetings & Introduction by the Moderators

by Mr SASAHARA Akio, Executive Director/ Ms KODAMA Miki, Deputy Director of Research Dept., ADRC (Moderators)


13:32-13:42 "Disaster Risk Reduction Literacy as the Foundation for Successful Inclusive BOSAI Implementations"
by Prof TATSUKI Shigeo, Inclusive-BOSAI Research Center, Doshisha University


13:42-13:52 "Enhancing Social Resilience on Disaster by Improving Community Awareness in Viet Nam"
by Mr. Pham Doan Khanh, Department of Science Technology and Int'l Cooperation (STICD), Vietnam Disaster Management Authority (VNDMA), Ministry of Agriculture and Rural Development (MARD)


13:52-14:02 "Meaningful Engagement and Participation of Community including Children and Youth"
by Ms Vanda Lengkong, Plan International Asia Pacific Hub, Indonesia


14:02-14:12 "Plant Back Better - Working Collaboratively Across the DRR Sector and Beyond on Climate Smart Agriculture in the Ati, Iloilo City, the Philippines"
by Dr Yanling Lee, Secretary General, APEC Emergency Preparedness Capacity Building Center (EPCC)/ Dr Yi-Chung Liu, Advocator


14:12-14:22 "Identifying Resilience of Localities through Operational Continuity of Hospitals as Indicators"
by Prof NISHIKAWA Satoru, Professor, Disaster Mitigation Research Center, Nagoya University


14:22-14:30 Open Forum
Summary:
Secretariat:
Asian Disaster Reduction Center (ADRC)
1-5-2-5F Wakinohamakaigan-dori, Chuo-ku, Kobe 651-0073 JAPAN
TEL+81-78-262-5540/ FAX+81-78-262-5546
Mail: rep(at mark)adrc.asia