7-8 June 2010, Bandar Seri Begawan, Brunei Darussalam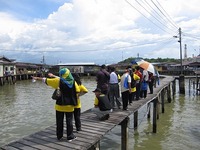 Brunei's National Disaster Management Center (NDMC) and ADRC had been prepar ing for training of local government officials in the country since May 2009.
The workshop on 7-8 June, extending its target to community level, was attended by some 100 people composed of government officials and residents including community leaders and school children from a water village, Kampong Ayer in Bander Seri Begawan.
On the first day, the participants took lectures such as disaster risks in the village and contingency planning followed by town watching. After developing hazard maps on the second day, the results were reported to be shared among residents. Emergency aid and fire & rescue exercise also participated in the workshop.
As Kampong Ayer is a disaster-prone area such as storms, floods and fires, the residents were so ardent and even asked for further workshops along thie line in the future.
Under the project of capacity building of local government officials in ASEAN members, similar activities are now scheduled in Indonesia, Malaysia, Myanmar, the Philippines, Singapore and Thailand.
(2010/06/18 17:40)