3 - 21 October 2011 (Papua New Guinea, Samoa)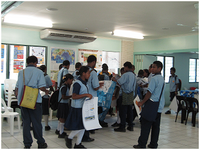 In October 2011, the Asian Disaster Reduction Center visited the Pacific countries, Papua New Guinea and Samoa in order to make interviews at NDMOs and relevant organizations and affected areas of past disasters over their DRM systems and activities. Faced with various disaster risks such as volcano, earthquake and tsunami, and cyclone, both countries have taken proactive measures especially in risk assessment, early warning and public awareness.
On 11 October, International Day for Disaster Risk Reduction was observed in Papua New Guinea, hosted by ADRC counterpart, National Disaster Center (NDC), ISDR and UNDP. The event, supported by related agencies and NGOs, turned out to be successful attracting some 500 participants including school children. Also in Samoa, public awareness efforts have been extended in the wake of 2009 tsunami catastrophe.

(2011/12/15 17:40)