Yogyakarta, Indonesia (September 21-23, 2018)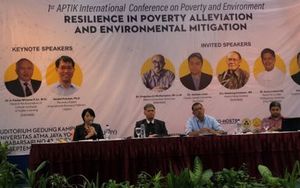 The Association of the Indonesian Catholic Universities (APTIK), in collaboration with the Ministry of Education and the Universitas Atma Jaya Yogyakarta (UAJY), invited the International Recovery Platform-Asian Disaster Reduction Center (IRP-ADRC) to speak about disaster recovery as an opportunity to enhance resilience and how to achieve the benefits of "build back better". The organizers particularly requested IRP-ADRC to present how recovery contributes to "Resilience in Poverty Alleviation and Environmental Mitigation", the overarching theme of the 1st APTIK International Conference on Poverty and Environment.
Over 100 professors, lecturers, and graduate students from APTIK member universities participated in the conference. Most participants shared research findings and programs on poverty alleviation and environmental mitigation - showcasing the role of universities in providing policy and program recommendations to both public and private sectors.
The keynote speech highlighted three points. Firstly, it mentioned the benefits of "build back better" in recovery, including: preventing future losses and reducing vulnerabilities; enabling faster recovery and creating co-benefits to the environment; and minimizing adverse impacts to poor people through inclusion in the recovery process. Secondly, it identified critical actions to achieve "build back better", including: having clear and adequate implementation arrangements; ensuring up-to-date policy on recovery; considering context-specific institutional arrangements; and putting in place predictable funds for recovery. Finally, it offered insights on how to sustain the benefits of "build back better", including: regularly amending recovery policies and regulations; regularly conducting pre-disaster mitigation; and regularly conducting drills and simulations. The speech concluded by emphasizing the importance of "preparedness to build back better" that can be carried out through pre-agreements, pre-disaster recovery planning, drills, and simulations in order to achieve resilient recovery.
(2018/09/22 14:40)