26 March 2010 (Yogyakarta, Indonesia)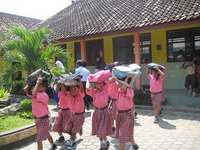 The pilot lesson and seminar for "Promotion of Disaster Education of Schools" project was held in Yogyakarta, Indonesia, from 26th to 27th March. It was organized jointly by the Ministry of National Education of Indonesia and the Asian Disaster Reduction Center (ADRC). More than fifty teachers of primary school and lots of students attended this two-day workshop.
On 26th March, teachers had a lecture "Basic Knowledge about Natural Disaster" for student based on the subjects lectured in the Training of Trainers (TOT) in March 2010. And they also conducted "Evacuation Drill against Earthquake" for students of each class on the same day. And the next day, participants including teachers, experts and the ADRC summarized the whole program of this project during the seminar. It was suggested that continuous activity by themselves and support by national/local government will be necessary for the spread of disaster education.
ADRC hopes that the outcome of this project will be shared in other schools on disaster education throughout the Indonesia.
Note: This project is part of the Japan-ASEAN Integration Fund Projects and aimed to promote disaster education in ASEAN countries through such means as training of school teachers followed by school lessons facilitated by trained teachers.)
(2010/04/19 18:30)