31 October -1 November (Jakarta, Indonesia)
This two-day symposium was organized jointly by Government of Indonesia, the Economic Research Institute for ASEAN and East Asia (ERIA) and Harvard University. Under the main theme of "Moving ASEAN Community Forward into 2015 and Beyond", the symposium discussed various issues on the fulfillment of the ASEAN Economic Community that is due on 2015 and the future challenges beyond the date.
Among three substantive sessions organized, the ADRC participated in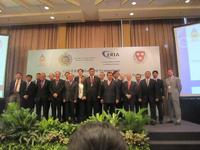 the Session 2: Moving the ASEAN Community Forward through Strengthening of Regional Corporation: Engendering a Resilient and Harmonious ASEAN whereby making a presentation "Strengthening regional cooperation in times of disaster".
In the outcome document titled"Jakarta Framework on Moving ASEAN Community Forward into 2015 and Beyond", it is mentioned that "the issues of resiliency, especially food security and energy security, as well as disaster management, have been identified as important challenges to be tackled" and "ASEAN's increasing demand for food and energy is even more challenging given the risks of natural disasters, for the fact that Asia is the most disaster prone region in the world."
(2011/11/02 13:10)