19 April 2009 (Bandung, Indonesia)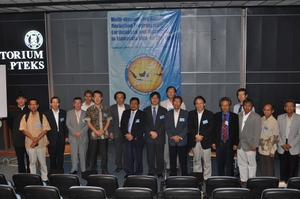 The kick-off meeting for Multi-disciplinary Hazard Reduction from Earthquakes and Volcanoes in Indonesia funded by JICA (Japan International Cooperation Agency) and JST (Japan Science and Technology Agency) was held on 21st April in Bandung Institute of Technology (ITB) and University of Tokyo. This project was approved by JICA-JST as one of the Science and Technology Research Partnership for Sustainable Development projects (http://www.jst.go.jp/global/index.html) for natural disaster prevention. The kick-off meeting was simultaneously held in ITB and University of Tokyo with the across-the-board support by the SOI (School on Internet) Asia (http://www.soi.asia/about/index.html) that is advanced internet infrastructure for information and communication technology.
In the kick-off meeting, after the opening remarks from Dr. Harjono, (Deputy to the Chair of LIPI for Earth Science, LIPI = Indonesian Institute of Science) and Prof. Satake (University of Tokyo), each group leader organized the session and discussed the project goal and implementation modality.
In the session for Group 6, Mr. Suzuki (Executive Director of Asian Disaster Reduction Center) and Dr. Pariatmono (Assistant for Deputy Minister for Development of Mathematics and Natural Science, Ministry of Research and Technology, RISTEK) facilitated the discussion on the project goals and all group leaders introduced their experiences and lessons learned on the government-academia collaboration on disaster risk reduction.
(2009/04/21 13:10)