28 September - 2 October (Padang, Indonesia)
Large-scale inter-plate earthquakes have occurred recurrently in Indonesia, particularly around Sumatra Island, but it has been reported by many experts that such an earthquake is likely to happen off Padang in West Sumatra within thirty years or so.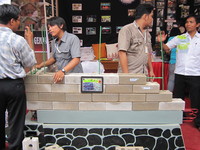 To prepare for such large-scale earthquakes, it is of urgent need to establish early-warning and transmission system, development of practical technologies for reduction of building vulnerability and community-based disaster risk management. Hence, two day workshop on 29 and 30 September was organised which coincided with one-year commemoration of the Padang Earthquake on 30 September 2009.
The National Graduate Institute for Policy Studies (GRIPS), the National Research Institute for Earthquake Science and Disaster Prevention (NIED) and the Asian Disaster Reduction Center (ADRC) from Japan, and the Metrological, Climatology and Geophysical Agency (BMKG), the Institute Technology Bandung (ITB) and Andalas University (UNAND) from Indonesia, among others, jointed the workshop.
As a result of discussion, it reached a consensus that future collaboration should focus on three substantive areas, namely early warning for earthquakes, practical technologies for reduction of building vulnerability and community-based disaster risk management. (2010/10/4 13:10)