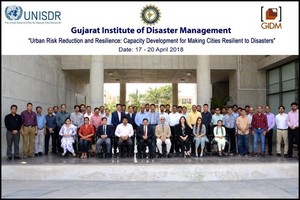 17-20 April 2018 (Gujarat, India)
In support of the Making Cities Resilient Campaign, the Asian Disaster Reduction Center/International Recovery Platform (ADRC/IRP) dispatched a resource person at the workshop on "Urban Risk Reduction and Resilience: Capacity Development for Making Cities Resilient to Disasters", 17-20 April 2018 in Gujarat, India. The event was jointly organized by the National Disaster Management Authority of India (NDMA) and the Gujarat Institute of Disaster Management (GIDM) in collaboration with the UNISDR-GETI.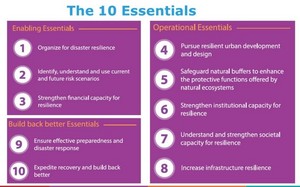 Forty-one officials, from national and local governments, participated in the four-day workshop that was aimed at guiding government planners to integrate the Ten Essentials of Making Cities Resilient to Disasters into their respective Disaster Risk Reduction (DRR) Plans. ADRC/IRP shared lessons on disaster recovery, particularly for Essential 9 (Ensure effective preparedness and disaster response) and Essential 10 (Expedite recovery and build back better), which were mostly taken from the IRP Guidance Notes on Recovery.
At the end of the workshop, participants came up with suggested actions and projects to strengthen resilience of their cities and communities. For instance, to prepare for the projected increase of heat wave, many local governments suggested exploring the cool-roof and passive ventilation techniques to achieve thermal comfort at residences (Essential 9). Additionally, pre-contracts of housing materials (e.g., lumbers, roof, and ventilation) or pre-agreements (of support among neighboring local governments) can be undertaken to expedite recovery efforts (Essential 10). The suggested actions/projects will be further deliberated among stakeholders of respective local governments before finally integrating it into the DRR Plans.
(2018/05/01 14:40)