21-28 October 2022 (Japan)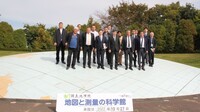 A delegation from Uzbekistan, an ADRC member since the inception of the organization, visited Japan from 21-28 October 2022 to study Japanese earthquake preparedness. The delegation included Mirzaev Sirojiddin Zaynievich, Vice-President of the Academy of Sciences of Uzbekistan, and 11 other government officials from the Cabinet Office, the Ministry of Emergency Situations, and other government agencies, and researchers from the Academy of Sciences and Universities.
They visited sites such as Nagoya University and the University of Tokyo, as well as government agencies such as the Disaster Management Bureau of the Cabinet Office, the Geographical Survey Institute, the Building Research Institute, and the National Research Institute of Science and Technology for Disaster Prevention. They were briefed on Japan's legal system and disaster prevention technologies and had opportunities to see actual observation devices and to visit facilities conducting relevant experiments. They asked many questions during each site visit, and expressed keen interest in the work being done.
ADRC supported the delegation by offering advice on the development of their agenda and accompanying the delegation to various sites.
(2022/10/28 15:00)