15 April 2010 (Manila)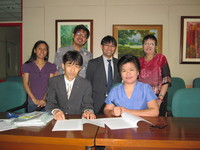 IRP facilitated coordination meetings with the Center for Disaster Preparedness (CDP) and the National Disaster Coordinating Council (NDCC) in the Philippines to document recovery lessons from Leyte Landslide of 2006. CDP is a resource center that works with NGOs, people's organizations, communities, and government agencies to enhance capacities in disaster preparedness, mitigation, emergency response, and recovery while NDCC is the national platform for disaster preparedness and emergency response. The meeting with CDP was held at CDP Conference Room, College of Social Work and Community Development (CSWCD) building, University of the Philippines, Diliman, Quezon City. In that meeting, IRP presented the rationale for developing the recovery status report and emphasized the importance of highlighting innovative practices and experience to generate knowledge build-up in recovery. The report will be used as part of the resources in developing the "Guidance Notes for Recovery", which is intended for national and local government to ensure "build back better". One important output of the meeting is the signing of contract between CDP and IRP/ADRC.
After meeting CDP, IRP paid courtesy visits to NDCC and Office of Civil Defense (OCD) to inform these offices of the project. IRP coordinates closely with these government offices to draw more inputs and make the recovery status report more useful to decision-makers and practitioners. The visits resulted in NDCC and OCD's expression of support to the project, especially in organizing a "national consultation" scheduled in November 2010, where concerned stakeholders in the Philippines will be gathered to validate and improve the recovery status report.
(2010/04/27 14:00)