20 March 2010 (Gandinagar, Gujarat, India)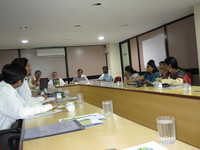 IRP participated in the State-Level Consultation on Gujarat Recovery Status Report, 20 March 2010 held at Gujarat State Disaster Management Authority (GSDMA) Conference Room, Gandinagar City, India. The event, which was jointly organized by Global Forum for Disaster Reduction (GFDR) and Delhi University (DU) in close coordination with GSDMA, brought together over 20 representatives from various organizations in India, including national and local governments, local and international NGOs, development agencies, and academia.
During the consultation, IRP presented the rationale for developing a series of recovery status reports and emphasized the importance of highlighting innovative practices and experience in recovery to advance knowledge build-up. In particular, the Recovery Status Report on Gujarat Earthquake will help inform the development of Guidance Notes for Recovery to be used by national and local governments to ensure "build back better". The consultation resulted in (i) threshing out of issues and gaps in recovery process, (ii) sharing of experiences, good practices, and lessons, and (iii) deliberating the key messages drawn from Gujarat's unique recovery experience from the earthquake of 2001. The report will soon be uploaded in the IRP Website (www.recoveryplatform.org).
(2010/04/01 14:40)