16-17 June 2014 (Manila, Philippines)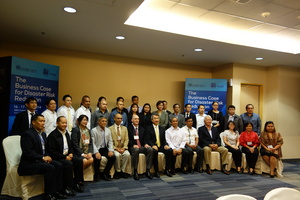 Hosted by SM Prime and led by UNISDR's Global Education Training Institute (GETI) and with the support of the International Recovery Platform (IRP), a two-day workshop on the "Business Case for Disaster Risk Reduction" was held at SMX Convention Center ? Mall of Asia, Manila Philippines, 16-17 June 2014.
The workshop was conceptualized in recognition of the rapid change in global economic and political arena, where there is an increasing interconnectedness of global trade, financial markets, and supply chains. In this context, the world of business is facing a more risky environment ? especially when a disaster strikes. For instance in 2011, the Great East Japan Earthquake and the flooding in Bangkok have shown how the private sector was heavily impacted. Essentially, global players need to protect and ensure that businesses continue after a disaster. The business case for DRR implies: (i) strengthening private sectors' capacities and strategies for risk management; (ii) ensuring prudence and sustainability in investments through regulatory and voluntary actions to increase the visibility of all risks; and (iii) encouraging government to invest more heavily in DRR in partnership with the private sector.
With over 60 participants from the business enterprises, governments, and academia, the workshop included group discussions on what strategies and actions can be put forward to further build resilience in business. IRP/ADRC presented global case studies on small enterprises and DRR to provide guidance and wider options for participants in drafting their respective business continuity plans (BCPs). Local experiences were also presented by distinguished personalities in the Philippines including Mr. Hans Sy (President SM Prime), Mr. Alexander Pama (Executive Director NDRRMC), Mr. Renato Solidum (Director PHIVOLCS), Mr. Jose Cadiz (Vice Mayor Marikina City), and Mr. Alfredo Arquillano Jr. (Former Mayor San Francisco, Cebu Province).
The workshop came up with recommendations to address knowledge gaps on DRR and convince business owners to move beyond basic business continuity planning through partnerships and closer collaboration between public and private sector. Additionally, it was recommended that businesses shall also consider the opportunity to create value in markets with products that address disaster risk.

(2014/06/30 14:40)