Makati, Philippines (April 29, 2016)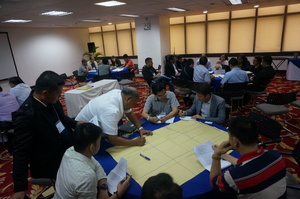 Upon request of the Manila Observatory, and in collaboration with the SM Prime Property Company and the Philippine Disaster Resilience Foundation (PDRF), the International Recovery Platform/Asian Disaster Reduction Center (IRP/ADRC) facilitated an orientation workshop on pre-disaster recovery planning (PDRP), 29 April 2016 at the Asian Institute of Management, Makati City, Philippines. The event gathered about 90 recovery decision-makers, planners, and implementers from public and private sectors, including civil society, scientific community, academe, media, and representatives of local communities to learn the essence of pre-disaster recovery planning. The composition of participants was diverse to effectively simulate the PDRP exercise and to facilitate complementarity of recovery support functions.
The workshop explored various approaches of formulating a PDRP based on existing tools and experiences, including strategies, actions, and case studies from global experiences and highlighting Japan's pre-disaster recovery agreements as observed during the recovery from the Great Hanshin-Awaji Earthquake 1995, the Great East Japan Earthquake 2011, and the Kumamoto Earthquake 2016. The importance of the PDRP was emphasized by prominent speakers, namely: Ms. Antonia Loyzaga of the Manila Observatory, Ms. Liza Silerio of the SM Prime, Mr. Guillermo Luz of the PDRF, Gen. Alexander Pama of the Office of Civil Defense, and Ms. Remedios Endencia of the National Economic Development Authority (NEDA). The speakers generally recognized that PDRP is essential because all governments and communities face similar organizational and policy issues in a disaster recovery (e.g. governance, financial management, effective operations, redevelopment standards, infrastructure, transportation, health, and livelihoods), so it pays to plan in advance. Firstly, it increases the "speed" of recovery when all stakeholders (i.e. multi-sectoral, multi-disciplinary, and inter-ministerial/departmental) plan in advance. It facilitates coordinated planning and implementation that minimizes uncertainties, overlaps, and bottlenecks. Secondly, it builds stronger relationship among all stakeholders that limits poor decision taken under post-disaster stress. It prepares stakeholders' full participation in recovery - making it easy to engage and reach a risk-informed decision. Finally, it establishes beforehand the modalities for financing recovery process, including pre-agreements and contracting services.
Using the Metro Manila earthquake scenario shared by Dr. Renato Solidum of the Philippine Institute of Volcanology and Seismology (Phivolcs), the workshop came up with two main outputs. One was a Checklist for Pre-Disaster Recovery Planning and the other was a Template on Pre-Agreement for Disaster Recovery. As way forward, the participants agreed to scale up discussions on PDRP with National Disaster Risk Reduction Management Council (NDRRMC) and explore the options for pre-agreements in disaster recovery, rehabilitation, and reconstruction.
(2016/04/29 14:40)