24 September - 2 October 2023 (Turkiye)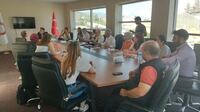 ADRC visited Turkiye from 24 September to 2 October 2023, staying six days in Turkiye, to study the state of their recovery in field of education in areas affected by the Turkiye-Syria Earthquake that occurred in February 2023. This study was supported by the "Hyogo Prefecture Turkiye Earthquake Recovery and Reconstruction Support Project" and conducted in collaboration with Mr SUWA Seiji, Visiting Professor, University of Hyogo. In addition, Dr Emin Ozdamar of the Turkish Japanese Foundation greatly cooperated in this project.
The delegation visited schools that were damaged by the earthquake in the Province of Gaziantep, Kahramanmaras, and Hatay, and had interviews regarding school education and the situations of teachers and children after the earthquake. Workshops were also conducted with education communities to share the experiences of the Great Hanshin-Awaji Earthquake and the Great East Japan Earthquake, including the response of the actual education sites and the recovery efforts they have made.
It seemed that the teachers were still in deep grief from the earthquake but they were working hard to reopen schools, continue education, and care for children. The Ministry of National Education (MoNE) has been providing mental health and psychosocial support for teachers and children by dispatching specialists and holding seminars for teachers, however, for a long-term recovery, continuous supports for teachers and children in schools are necessary. Moreover, reconsideration of future disaster education based on the experience of this earthquake is also essential. ADRC will create opportunities to share experiences of disasters between Turkiye and Japan through communication exchanges with teachers and children.
(2023/10/09 15:00)