2-3 February 2023 (online)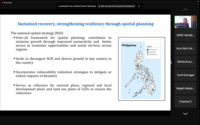 Addressing the challenges in spatial planning due to increasing natural disasters and climate change was the overarching theme of the 5th Spatial Planning Platform (SPP) meeting held in Kathmandu, Nepal on 2-3 February 2023. ADRC participated in this year's event online.
Since spatial planning is an essential tool in countering unplanned development and rapid urban growth, this planning practice faces inherent challenges such as the growing demand for more space as well as the increasing spatial needs for transportation, infrastructure, housing, landscape, and recreation. In the context of the changing climate, the 5th SPP tackled how to formulate and implement spatial plans that ensure the prudent use of land and natural resources.
The session "Spatial Planning and Territorial Approach for Climate Change Adaptation," showcased experiences from Bangladesh, Malaysia, the Philippines, and Uganda. In the Philippines, where natural disasters are common, the government adopted an overall framework for spatial planning that contributes to: (1) inclusive growth through improved connectivity and better access to economic opportunities and social services across regions; (2) decongestion of the national capital region (NCR) and efforts to direct growth to key centers in the country; (3) vulnerability reduction strategies to mitigate or reduce impacts of disasters; and (4) the alignment of sectoral plans, regional and local development plans, and local governments' land use plans with the national framework to ensure coherence.
Details of the meeting can be accessed online:
(2023/02/09 15:00)