21 October 2022 (Online)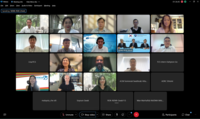 On 21 October 2022, ADRC participated in the annual meeting of the Working Group on Disaster Risk Reduction (WGDRR) of the Typhoon Committee. This event, which was held online, enabled discussion of three key items: (1) progress on the implementation of projects for 2022, (2) proposed projects for 2023, and (3) participation in the Integrated Workshops (IWS).
It was reported that all seven projects for 2022 were implemented, including the "Knowledge Sharing in DRR" event that was held in Guam over the summer. For 2023, WGDRR proposed seven projects:
(1) Capacity Building and Knowledge Sharing in DRR,
(2) Setting-up Early Warning and Alert Systems,
(3) the WGDRR Annual Meeting,
(4) Benefit Evaluation of Typhoon DRR,
(5) DRR Information Sharing,
(6) a DRR Education Video, and
(7) a Seminar on Crowd-Sourcing.
The WGDRR will report on the progress made on the 2022 projects as well as the proposed projects for 2023 at the forthcoming 17th Integrated Workshop of the Typhoon Committee, to be held 29-30 November 2023 via video conference. At the closing, the chair of the WGDRR highlighted that the first project to be implemented in 2023 is the "Knowledge Sharing in DRR Events," which will be held back-to-back in Manila, Philippines and Vientiane, Lao PDR during the first quarter.
(2022/10/28 15:00)