4 - 6 October 2022 (Dushanbe, Tajikistan)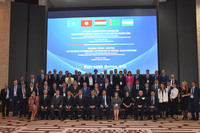 This Regional Forum co-organized by the Centre for Emergency Situations and Disaster Risk Reduction (CESDRR) and the Committee of Emergency Situations and Civil Defence (CoES) of Tajikistan was held on 4-6 October 2022 in Dushanbe, Tajikistan. The Regional Forum was attended by more than 70 people including heads of emergency authorities in the Central Asian countries and UN officials, donors, and representatives of international and NGOs.
During the Regional Forum, many topics of international cooperation on DRR were discussed, such as the ongoing implementation of the Sendai Framework for DRR, lessons learned from major natural disasters and the recovery process, inclusive approaches to DRR, cross-border cooperation, and DRR investments. CESDRR pointed out that the Technical Working Group will be created for the development of a Regional Early Warning System and Mutual Information Sharing on Threats and Emergencies.
ADRC introduced current activities that contribute to capacity building in the Central Asian countries, such as the visiting researcher program, the Sentinel Asia project, GLIDE, and preparations for a future Asian Conference on Disaster Reduction (ACDR) in Tajikistan.
(2022/1011 15:00)