18 August 2022 (Chiangmai, Thailand)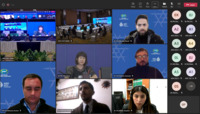 Japan's delegation to the 18th APEC Emergency Preparedness Working Group (EPWG) meeting held on 18 August 2022 included four officials from the Asian Disaster Reduction Center (ADRC). Mr SUZUKI Koji, who is serving as current co-chair of the EPWG participated in person in Chiangmai, Thailand while Mr SASAHARA Akio, Ms SHIOMI Yumi, and Mr Gerald Potutan participated online. The government of Thailand hosted the meeting with the theme of "Promoting Disaster Risk Reduction and Strengthening Partnership Toward Resilient Recovery After COVID-19."
ADRC gave two presentations at the meeting. The first presentation showed the application of the GLIDE numbering system and the utilization of satellite images in documenting recent disasters (2021-2022) in Asia and the Pacific region. In applying the GLIDE numbering system, ADRC assigns common but unique numbers to disasters to support the integration of disaster risk reduction (DRR) data as well as to improve the efficiency of retrieving historical and ongoing disaster information from various databases across different countries and organizations. Moreover, ADRC also provides to member countries "before-and-after" satellite images of disaster-impacted areas through Sentinel Asia - an initiative led by the Asia Pacific Regional Space Agency Forum (APRSAF) to support disaster management with WEB-GIS technology and earth observation satellite data. The second presentation showed the potential contribution of Japan's early warning service (EWS) using the Quasi-Zenith Satellite System (QZSS) to support evacuation and response activities. QZSS, which is a constellation of Japanese Global Navigation Satellite System (GNSS), has the capacity to send warning information using space satellites. QZSS is expected to offer greater applications in remote and mountainous areas with poor coverage of ground-based telecommunications networks. It would also help protect the early warning message from vulnerable telecommunications systems against service disruptions during extreme disaster events. For this project, the Cabinet of Japan is initially inviting the following countries to participate in feasibility studies and demonstrations: Chinese Taipei (Taiwan), Cambodia, Indonesia, Malaysia, Philippines, Thailand, Bangladesh, Nepal, Australia, and Fiji.
As indicated in both presentations, ADRC has been implementing DRR projects in the Asia-Pacific region and would like to further leverage greater partnerships in the EPWG to strengthen regional efforts.
(2022/08/25 15:00)