29 March 2022(online)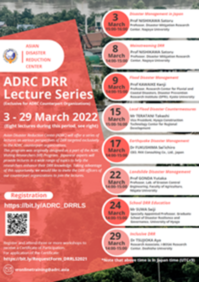 The Asian Disaster Reduction Center (ADRC) has been conducting its Visiting Researcher (VR) programme and inviting VRs from ADRC member countries to spend time in Japan since 1999. As of March 2021, 117 officials from 27 member countries have participated in the programme, enabling ADRC to contribute to human resource development and disaster information sharing in those countries. During their programmes, VRs will study some of the most innovative and practical initiatives and technologies in the DRR field, and will learn about Japan's cooperation with and involvement in relevant international organizations. VRs are expected not only to help strengthen the DRR capacity of their own countries, but also to further promote cooperation between their countries and ADRC.
ADRC selected four VRs in FY2020, representing Bangladesh, India, Myanmar, and Thailand, but could not hold its regular on-site programme in Japan due to the COVID-19 pandemic. ADRC therefore decided to conduct its programming online.
ADRC also selected four VRs in FY2021, representing Armenia, Mongolia, Pakistan, and Vietnam. Due to the ongoing effects of the COVID-19 pandemic, however, ADRC decided to conduct hold an ADRC DRR Lecture Series for supporting the VR's research themes.
This 8-part Lecture Series was held in March 2022. ADRC invited Japanese DRR experts to give lectures on a variety of topics, such as disaster management at the national and local levels in Japan, disaster countermeasures for specific disasters (e.g., earthquakes, floods), the promotion of DRR education in schools, and disaster prevention activities in cooperation with some of the most vulnerable populations during disasters. To publicize the VR programme broadly, this Lecture Series was open not only to the eight selected VRs, but also to other officials in all of our ADRC member countries.
(2022/5/2 15:00)