29 March 2022(online)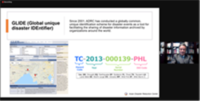 During the first ASEAN Ministerial Meeting on Disaster Management Plus Japan (AMMDM + Japan) held on 14 October 2021, ASEAN and Japan agreed to engage in mutually beneficial cooperation that leverages innovation and technology in disaster management, including early warning, emergency response, information sharing, data analysis, and business continuity. In line with this agreement (as well as to contribute in the implementation of the ASEAN Agreement on Disaster Management and Emergency Response (AADMER) Work Programme 2021-2025), the Cabinet Office of Japan and the ASEAN Secretariat organized the "Public-Private Seminar on Innovative Policies and Technologies for Disaster Risk Reduction," which was held online on 29 March 2022. Organizations in Japan, including ADRC, Japan International Cooperation Agency (JICA), Climate Change Adaptation National Institute for Environmental Studies (NIES), Japan Science and Technology Agency (JST), Mitsui Sumitomo Insurance Co., Ltd., OYO Corporation, and PASCO CORPORATION collaborated on holding the seminar.
The speakers of Session 1: DRR Innovations included representatives from: the ASEAN Secretariat, who presented the ASEAN Disaster Resilience Outlook (ADRO); JICA, who showed the 8 Steps in Developing Local DRR Strategies; ADRC, who discussed DRR initiatives; NIES, who demonstrated climate projections; and JST, who introduced the concept of business continuity management (BCM). In his presentation, ADRC Executive Director NAKAGAWA Masaaki highlighted the center's innovative activities, including the Global unique disaster IDEntifier (GLIDE) system, Sentinel Asia, Quasi-Zenith Satellite System-Early Warning Service (QZSS-EWS), community-based DRR (e.g., Town Watching for DRR), and human resource development (e.g., VR Programme, and DRR Training commissioned by JICA).
The speakers of Session 2: DRR Technologies included representatives from: ASEAN Coordinating Centre for Humanitarian Assistance on Disaster Management (AHA Center), who introduced the ICT Roadmap on Disaster Management; Cabinet Office of Japan, who presented on the Information Support Team (ISUT); Mitsui Sumitomo Insurance Co., Ltd., who presented on Flood Risk Information Using Big Data; OYO Corporation, who discussed "ServiBers" as a risk communication tool; and PASCO CORPORATION, who demonstrated the contributions of remote sensing technologies in DRR.
Outcomes of the seminar are expected to contribute to the implementation of the AADMER Work Programme 2021-2025 and the development of the ASEAN-Japan Work Plan on Disaster Management 2021-2025. The ASEAN secretariat also indicated that the Science and Technology Forum in 2023 is under consideration.
(2022/5/2 15:00)