20 February 2022 (online)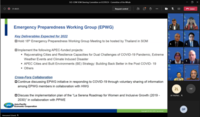 Executive Director Nakagawa succeeded former Executive Director Suzuki as a co-chair of the APEC Emergency Preparedness Working Group (EPWG). APEC is a framework for economic cooperation among 21 economies in the Asia-Pacific region. At the Senior Officials Meeting held in February, each organization under the APEC umbrella outlined its activities for this year. The EPWG co-chairs outlined how the group conducts its EPWG meetings, promotes individual projects, and works with other organizations. Thailand, this year's host country, presented the following three priorities under the theme "OPEN, CONNECT, BALANCE."
- Openness in all opportunities for trade and investment
- Reinvigorating all aspects of collaboration
- Promoting balance, sustainability, and inclusiveness on all fronts
Each participating economy also affirmed its commitment to take action to realize the Putrajaya Vision 2040, APEC's long-term action guideline, and its corresponding Aotearoa Action Plan. The economies then commented on the work.
Among them, the Japanese government specifically expressed support for the activities of EPWG, specifically in the context of intensifying disaster risks due to climate change and other factors.
(2022/2/27 15:00)