9 February 2022 (online)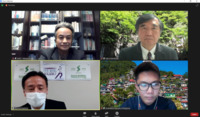 ADRC organized a session entitled "Resilient Society through Disaster Risk Reduction" at the 4th Spatial Planning Platform (SPP) Forum held online on 9 February 2022. The SPP is an organization led by UN Habitat and the government of Japan, with the participation of Asian countries and specialized organizations, which aims to contribute to the creation of a sustainable society through better urban and regional planning.
The 4th SPP Forum featured presentations by Prof NISHIKAWA of Nagoya University on planning efforts for disaster risk reduction (DRR) in Japan; by Sendai City on the integration of DRR into local government planning; and by the government of the Philippines on lessons learned on community relocation in the process of disaster recovery and reconstruction.
For more information, please visit https://spp-pr.com/conferences/4thMeeting/
(2022/2/16 15:00)