14 September 2021 (online)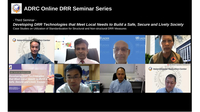 The Asian Disaster Reduction Center held the third ADRC Online DRR Seminar on 14 September 2021.
This seminar was attended by 116 participations from all over the world with the theme of "Developing DRR Technologies that Meet Local Needs to Build a Safe, Secure, and Lively Society."
The seminar highlighted case studies of DRR investments made before disasters and other activities conducted in line with international standards, explained that standardization is important to keep methods simple, avoid useless operations, and facilitate smooth communication. and invited experts/practitioners to share their knowledge of experiences with the utilization of standardization for DRR, also presented related case studies.
(2021/9/21 15:00)