1-2 December 2020 (Virtual)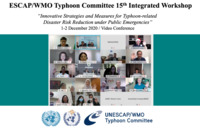 Since 2006, the Typhoon Committee (an intergovernmental body under the joint auspices of ESCAP and WMO, and comprising 14 member countries in the Asia-Pacific) annually organizes the 'Integrated Workshops' (IWS) along three components: meteorology, hydrology, and disaster risk reduction. The key objective of organizing the IWS is to discuss current and emerging typhoon-related issues/themes. In 2020, the Typhoon Committee adapted the theme, Innovative Strategies and Measures for Typhoon-related Disaster Risk Reduction under Public Emergencies for the 15th IWS, virtually organized on 1-2 December 2020.
ADRC delivered one the keynote presentations entitled, "Disaster Response Amidst COVID-19: Lessons from Recent Typhoons". The presentation highlighted the respective activities of the Disaster Risk Management (DRM) agencies in the Philippines, India, and the Republic of Korea in responding to recent typhoon disasters on top of COVID-19 pandemic. Considering restrictions of people's movement, and the additional health protocol requirements of social distancing and face coverings, DRM agencies introduced new response measures such as: (i) designating more evacuation centers (not just schools but include other safe building like churches or gymnasiums); (ii) adopting separate measures for screening and isolating evacuees who contracted COVID-19; and (iii) utilizing digital technologies (e.g., mobile apps and disaster dashboards) to support decision-making.
Moreover, the two ADRC delegates also participated in the working group discussions, particularly in the working group on disaster risk reduction (WGDRR), in finalizing the Annual Operating Plan (AOP) for 2021. It was noted that most of the AOPs in 2020 were stuck due to COVID-19. Thus, in 2021 the implementation of those AOPs will be continued, including by virtual means.
(2020/12/11 14:40)