7 November 2019 (Ulaanbaatar, Mongolia)
Asian Disaster Reduction Center (ADRC) had participated in the JICA Project for Strengthening the National Capacity of Earthquake Disaster Protection and Prevention in Mongolia from November 2016 to December 2019 (for 3 years) as a member of the Project team.
In Mongolia, especially in the western part, earthquakes with magnitudes of 8 on the Richter scale were recorded in the 20th century. In addition recently the earthquake risk has been increasing, because several faults were discovered near Ulaanbaatar city, the capital of Mongolia which is densely concentrated with the half population of the Mongolian people. The number of both felt and unfelt earthquakes has increased. In this circumstance, based on the request by the National Emergency Management Agency (NEMA) the Project was conducted aiming at the following three outputs: Output1- Enhancement of capacity for data collection on disaster risk reduction and coordination among related organizations; Output2- Enhancement of capacity of public administration officers related with the seismic assessment and seismic strengthening for buildings; and Output3- Improvement of disaster risk reduction education and awareness raising activities.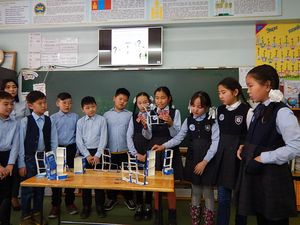 The ADRC contributed to the Output 3 activities, including of development of a guideline for DRR and educational materials in kindergartens and schools, implementation of training program for instructors and teachers, develpment of materials for DRR education and raising awareness, and implementation of training programs for residents. For more details, the final report of the project is available at:
(pdf, 5.36MB, JICA Library)
(2020/03/03 10:40)