14-15 December 2017 (Bangkok, Thailand)
The ISDR ASIA PARTNERSHIP FORUM meeting was held on 14 and 15 December 2017 in Bangkok, Thailand and attended by many DRR officials and practitioners. The participants were welcomed by Ms. Kirsi Madi, Director, UNISDR, followed by opening remarks and official opening by Ms Sayanaa Lkhagvasuren, Chief Adviser to Deputy Prime Minister and Head of DPM's Office, Government of Mongolia. After a round-table introduction of the Participants, Ms. Loretta Hieber Girardet, new chief, UNISDR Regional Office for Asia Pacific presented the draft agenda.
On Day1, 16 countries including Japan made their brief progress reports on the implementation of the Sendai Framework and the Asia Regional Plan for Implementation of the Sendai Framework for Disaster Risk Reduction by following the three questions informed by UNISDR, (1. Major achievements made in year 2017, 2. Main challenges and 3. Ongoing or upcoming main programmes/activities/events, followed by reports by international organizations and diverse stakeholders including ADRC in the afternoon .
ADRC first briefed about ACDR2017 held in Azerbaijan and the APECworkshop on rural infrastructure BBB, shared challenges ADRC member countries answered in the questionnaire survey in Azerbaijan and the ACDR2018 in Awaji for the 20th anniversary as the key upcoming event.
Day 2 started with the report made by UNISDR on the outcome of the Technical workshop to launch the Sendai Framework Monitoring Process held Bonne workshop 6-8 December, and the key dates and milestones for 2018-2019. Participants then discussed priority issues of Sendai Framework by splitting themselves into groups. In the afternoon, Mongolia reported about the status of preparation for AMCDRR and the preparatory process. In April, another IAP meeting will be held for the preparation for AMCDRR in July 2018.
Photo: Report by Ms. Setsuko Saya, Cabinet Office, Japan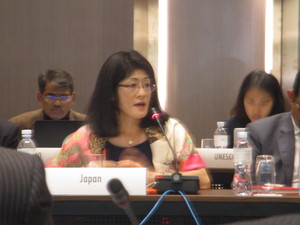 Photo: Report by UNISDR