Iriga City, Philippines (November 28-29, 2016)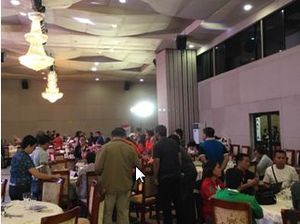 Recognizing the risks from natural hazards (such as typhoons, floods, and landslides), governors, mayors, and their respective disaster risk reduction management (DRRM) officials of the local government units (LGUs) in the entire Bicol region gathered together in Iriga Convention Center, 28-29 November 2016, Iriga City to further explore local approaches and measures to manage and reduce risk. Bicol is the most typhoon-prone region in the Philippines prompting the LGUs to heighten their efforts in disaster risk reduction by localizing the implementation of the Sendai Framework.
The event was initiated and convened by Iriga City Mayor Madelaine Yorobe Alfelor who was inspired by the outcomes of the Asian Ministerial Conference on Disaster Risk Reduction (AMCDRR) held in New Delhi, India - particularly on the crucial role of local leaders and mayors in implementing the Sendai Framework. During the event in Iriga City, Mayor Alfelor expressed two main reasons why there is a need to gather all local leaders and mayors in the region. One is to advocate for LGU readiness to face risks brought about by hazards, including typhoons, floods, volcanic eruption, and earthquake. The other is to draw commitment of the local chief executives to promote community resilience by adopting the Ten Essentials advanced by the Making Cities Resilient (MCR) campaign
About 85 mayors and over 120 officials from Disaster Risk Reduction Management Office (DRRMO) of each local government participated in the workshop to learn and adopt the Ten Essentials through a two-day workshop facilitated by UNISDR-GETI and IRP. The Ten Essentials is a tool that local governments can apply to strengthen their DRRM plans. Two of the Ten Essentials (9 and 10) pertain to "build back better", and it is in this context that IRP/ADRC shared the global experiences and case studies. By learning from lessons of past experiences, local governments can identify and address their respective weaknesses in disaster risk management.
To forward the recommendations reached at the workshop, the DRRMO officials of the entire Bicol region plan to organize themselves into a platform for sharing knowledge and experiences. In their forthcoming meeting, the DRRMOs will discuss how to implement the identified priority actions they set forth at the workshop in Iriga City.
(2016/11/30 14:40)