19-21 February 2014 (Cebu City, Philippines)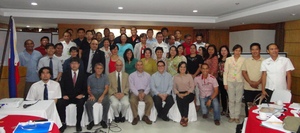 The International Recovery Platform (IRP) and Asian Disaster Reduction Center (ADRC) had facilitated a Workshop on Disaster Recovery Planning, 19-21 February 2014 at Crown Regency Hotel in Cebu City, Philippines. The main objective of the workshop was to provide technical assistance in formulating the recovery plans of local governments impacted by super typhoon Haiyan. With its experts in Cebu City, IRP/ADRC shared a collection of global experiences and lessons on disaster recovery, which served as reference in establishing a temporal link between preparedness, recovery, and sustainable development. The workshop was also aimed at strengthening the local capacities for integrating disaster risk reduction (DRR) and climate change adaptation (CCA) in disaster recovery planning and long-term development programming.

Over 50 local government officials from the Provincial Government of Cebu, Provincial Government Leyte, Provincial Government of Samar, City Government of Tacloban, Municipal Government of Palo (Leyte), and Municipal Government of Basey (Samar) participated in the workshop to explore strategies and actions on recovery and reconstruction from the super typhoon. Additionally, partners from UNISDR-GETI (South Korea), Office of Civil Defense (Philippines), and GIZ-Philippines also participated to further contribute in the discussions and make sure that partners' knowledge and experiences are shared with the impacted local governments. The acting administrator of OCD General Romeo F. Fajardo along with the administrator of the Province of Cebu Atty. Mark Tolentino and OCD-Region 7 director Ms. Dina Morante were present at the opening to grace occasion and inspire the participants to work collaboratively and effectively. During this event, the participants were exposed to various options to "build back better" after a disaster. A wide array of strategies and actions from the Guidance Notes on Recovery served as options in which the local governments can adopt, if suited to their respective contexts. The lessons on recovery, as compiled by IRP/ADRC from various experiences around the globe, provided an additional input to build on the existing initiatives of local governments. At the end of the workshop, each local government came up with an outline of Recovery Plan, including a list of strategies, actions, and responsible offices/organizations to implement the proposed actions.

As way forward, the local governments intend to further refine the recovery plans together with local stakeholders, specifically the community. They will form working groups to fine-tune the output from the workshop. The revised draft will then be shared to other departments for comments and suggestions. After gathering the comments, the working group of each local government will incorporate them in the draft. The final version of the recovery plan will be submitted to the local council for discussion and adoption by the local government. Once adopted, the plans will be submitted and discussed with the Philippine Reconstruction Czar General Panfilo Lacson, who is the Presidential Assistant for Reconstruction from Typhoon Yolanda (Haiyan) for further amendments and funding.

(2014/03/03 14:40)