15-17 October 2013 (Makati City)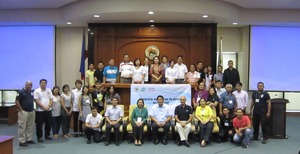 The Makati City Government requested IRP/ADRC to facilitate the city's initiative of developing a Disaster Recovery Framework through a workshop held on 15-17 October 2013 at the City Hall Conference Room, Makati City, Philippines. Since Makati is the location of central business, the mayor wants to ensure that Business Continuity Plans (amongst others) are put in place and specified in the City Recovery Framework.
About 50 city officials from different departments participated in the workshop to explore strategies and actions on recovery. In addition, officials from other local governments of Metro Manila also participated to make sure that local knowledge and experiences within the Metropolis are shared. The General Manager of the Metro Manila Development Authority (MMDA) was also present at the workshop. During this event, the participants were exposed to various options to "build back better" after a disaster. A wide array of strategies and actions from the Guidance Notes on Recovery serve as options for the city to adopt, if suited to its context. The lessons on recovery, as compiled by IRP/ADRC from various experiences around the globe, provided an additional input to build on the existing initiatives. The key output of the workshop is a draft Recovery Framework of Makati City.
As a way forward, the Makati Government formed a Working Group on Disaster Recovery Framework to fine-tune the output from the workshop. The draft will be shared to other departments for comments and suggestions. The working group will then incorporate the comments, and revise the draft. The final version of the Framework will be submitted to the City Council for discussion and adoption by the City Government in December 2013. Once adopted, sources of funds will be identified for its implementation.
(2013/11/11 14:40)