2 to 4 July 2013 yanmar, Nay Pyi Daw City
Myanmar is a disaster prone country. On May 2008, 130,000 people were perished or missed by Cyclone Nargis, and they had floods and landslides in 2010, a heavy earthquake in 2011.
For this reason, the Myanmar Government stipulated the " Myanmar Action Plan for Disaster Risk Reduction" in 2012, and has been promoting various DRR projects based on the Plan. The Myanmar Government decided the establishment of "Disaster Management Training Center" in order to enhance disaster prevention awareness in people and to train the personnel involved in disaster management, and planned to build their facilities in 3 years from 2013.
In 2nd to 4th of July, with the aim of making proposals and advice to the Myanmar Government for training and educational content in the center, sponsored by International Cooperation Agency of Japan (JICA), the United Nations Development Programme, this workshop was held in Nay Pyi Daw, the new capital city of Myanmar. About 80 people from the governments of Asia including Myanmar, international organizations, and NPOs participated in the workshop, and one of the ADRC staff was invited to this workshop.
In the workshop, there were introductions of the education / training center of Thailand and Singapore, JICA and the Asian Disaster Preparedness Center also introduced their international capacity building businesses. The ADRC presented our capacity building activities for Myanmar, such as the Visiting Researcher program in which we invite young officials of member countries to Japan and the DRR training program for local government officials sponsored by Japan-ASEAN Integration Fund.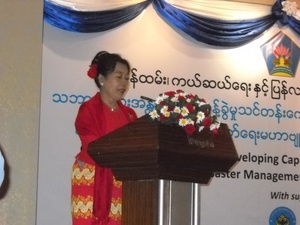 Opening Speech by the Union Minister of Social Welfare, Relief and Resettlement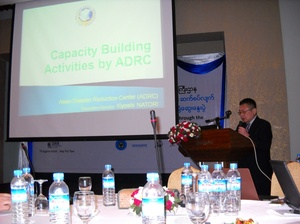 Presentation by an ADRC staff