14-16 November 2012 (Daejeon, Korea)
The 5th Sentinel Asia Joint Project Meeting (JPTM) was held on 14-16 November 2012 in Daejeon, Korea. It was organized jointly by the Japan Aerospace Exploration Agency (JAXA), the United Nations Economic and Social Commission for Asia and the Pacific (UNESCAP), and the Korea Aerospace Research Institute (KARI) of the Korea.
Under the Sentinel Asia framework, ADRC functions as a single gateway for processing emergency observation requests, screening and then forwarding approved requests to the relevant space agencies. At the meeting, ADRC reported on the status of the emergency observations that were implemented, the results of a survey on how the satellite data provided was utilized in each country, and the result of Glacier Lake Outburst Flood (GLOF) project in Bhutan. The topics discussed at this meeting were as follows:
- Progress of Sentinel Asia Step 2
- Current situation of each JPT member
- Activities of the Forest Fire Working Group
- Activities of the Flood Working Group
- Activities of the Glacier Lake Outburst Flood (GLOF) Working Group
- Collaboration with Sentinel Asia and the International Disaster Charter
ADRC will continue to promote the use of satellite data for disaster reduction in Asia in cooperation with the Sentinel Asia secretariat. For more details about this meeting, please visit the Sentinel Asia web site https://sentinel.tksc.jaxa.jp/sentinel2/topControl.action.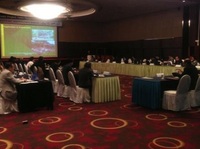 (2012/11/20 18:30)