3 May 2012 (Makati, Philippines)
United Nations International Strategy for Disaster Reduction (UNISDR) and Manila Observatory jointly hold the forum at Ateneo de Manila University on 3rd May 2012. The aim of the forum was to urge Manila's business community to reduce disaster risk and to develop business continuity plans which take account of the capital city's extreme exposure to earthquakes and typhoons.
About 100 participants from research institute, private sector and government sector actively exchanged views and opinions on the issue of Business Continuity Planning in the Philippines.
ADRC made presentation regarding the current situation of Business Continuity Planning in Japan and other Asian countries after Great East Japan Earthquake and flooding in Thailand.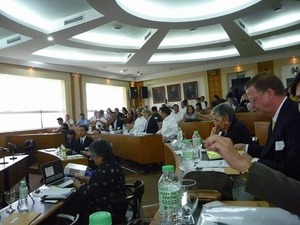 (2012/05/08 11:30)