14-16 February 2012 (Kuala Lumpur, Malaysia)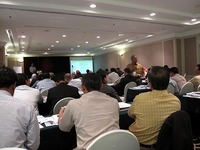 From 14 to 16 February 2012, Asian Disaster Reduction Center (ADRC) conducted workshop on DRM in Kuala Lumpur, Malaysia targeting local government officials. Malaysia's National Security Council (NSC) and ADRC have been prepared for this training since 2009. Some 80 local officials in charge of DRM nationwide as well as NSC and line departments attended the workshop.
The officials from NSC, Malaysian Meteorological Department (MMD) and relevant agencies gave lectures in this training, followed by Training of Trainers in 2010. The attending local officials, who are expected to play a pivotal role in community-based disaster risk management (CBDRM), learned topics such as NSC Directive, flood management, early warning and recovery efforts from tsunami in Malaysia and Japan and had group discussion on CBDRM. The training program drew a lot of interest from the participants and invited active discussion.
The workshop put an end to the training program in Malaysia but it is hoped that capacity building activities of local officials and communities will extend leading to further strengthen disaster resilience of the country.

(2012/2/27 17:40)