14-17 March 2011, Yangon, Myanmar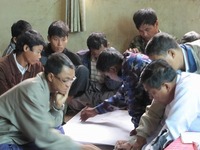 On 14 - 17 March 2011, Relief and Resettlement Department (RRD) of Ministry of Social Welfare of Myanmar, and Asian Disaster Reduction Center (ADRC) conducted Training of Trainers (TOT), a part of capacity building program for local government officials on disaster management, which ADRC has conducted since 2008 in ASEAN member countries. In Myanmar, the project was launched in 2010. With the participation of 30 participants including government officials from Yangon, Mandalay and Ayeyarwardy divisions, relevant organizations and NGOs, RRD and ADRC, the TOT covered such topics as early warning, damage & needs assessment, earthquake & tsunami and climatological disaster management followed by town watching and hazard mapping in Yangon suburbs. The participants of this training will then give lectures at coming workshops in the above-mentioned districts targeting local government officials.
Before the opening of the training, the participants offered silent prayers for the victims of Tohoku-Pacific Ocean Earthquake in Japan which occurred on 11 March 2011.

(2011/03/28 17:40)