1-4 March 2011 (Islamabad, Pakistan)
The objective of this Workshop, which is organized jointly by UNESCAP, Pakistan Meteorological Department (PMD), Pakistan Space & Upper Atmosphere Research Commission (SUPARCO) at SUPARCO, Islamabad, Pakistan, is to develop the capacity to build better resilience to water related disasters as well as for more effective adaptation to climate change through the applications of space technology and flood risk management in Pakistan.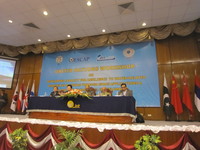 Space-based technologies increasingly play an important role in disaster risk management as demonstrated by floods in Pakistan and in Thailand. ADRC was invited as an expert by the organizers and made two presentations on "Enhancing the use of space-based technologies for disaster risk management" focusing on Sentinel Asia and "Community-based disaster risk management" respectively. Participants especially from Pakistan showed great interest in Sentinel Asia and other space-technology related programmes. Also, some participants underscored the importance of community-based disaster risk reduction activities in Pakistan. Space-technologies have been becoming more relevant to and useful for disaster risk management.
ADRC as a focal point for emergency observations of Sentinel Asia and a regional support office of UNSPIDER will continue to contribute to this objective.
(2011/03/04 13:10)