2 December - 5 December (Colombo, Sri Lanka)
ADRC representative recently visited Sri Lanka to explore the possibility of further strengthening collaboration between Sri Lanka and ADRC, especially focusing on the next Asian Conference on Disaster Reduction (ACDR) to be held in Sri Lanka sometime next year.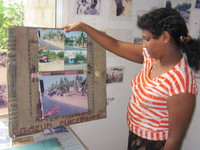 Sri Lank, similar to many other Asian countries, is susceptible to various types of disasters. The 2004 Indian Ocean Tsunami, already six years ago, killed more than thirty thousand people, injured more than twenty thousand and affected more than 1 million populations in Sri Lanka, the sheer scale of which is second only to Indonesia. Flood and land/mud slides frequently cause extensive human and physical damages in many parts of the country, but one of the most recent ones was the flash flood occurred in the capital Colombo affecting a large number of residents.
During the stay there, we visited several disaster stricken sites. One of the most intriguing sites was the Tsunami Photo Museum located nearby the site of a passenger train washed away by Tsunami killing over a 1,000 people in Galle district, southern part of Sri Lanka. This museum, privately owned, contains precious photos and messages of Tsunami, but in a small hut.
(2010/12/7 13:10)